Most of us are familiar with Eccles cakes – dried fruit (mainly currants) encased in circles of pastry. If you're interested in regional cookery you may have heard of the similar Chorley cake and Coventry God cakes. I had never heard of the Yorkshire pasty before, though a quick Google shows that many from the Yorkshire area remember their mothers and grandmothers making these treats from carefully handed down family recipes.
What stood out and made me want to try them was the addition of fresh mint to the usual currant and spice combo. The recipe isn't terribly helpful, so I had to improvise a bit. Also I'm not keen on currants, so I used raisins and sultanas. Candied peel from supermarkets can be hard and bitter, if you can make your own that would be best, otherwise the best you can afford. If you hate the stuff, use grated orange zest instead.
As for the shape, there doesn't seem to be any strict rules; you could go for any of these:
Quite honestly, although I could happily have eaten several, each bite was such a taste surprise it was hard to say if I actually liked them. I guess I must have!
Yorkshire Mint Pasty
1 sheet of shortcrust pastry or homemade pastry made with 120g plain flour and 60g fat ( this could be butter, vegetable fat, margarine or lard)
7 tbsp Mixed dried fruit, or your own blend of raisins, currants, sultanas and candied peel (I used 3 tbsp raisins, 3 tbsp sultanas and 1 tbsp candied peel
3 tbsp brown sugar
30g butter
1/4 tsp Nutmeg
1 or 2 tbsp Chopped fresh mint leaves
1. Mix the fruit, peel, sugar, mint and spice in a bowl.
2. Roll out the pastry on a floured surface. Cut into shapes if you want, though you can just sprinkle the filling over half of the pastry, fold it over, and cut into rectangles (a bit like a Garibaldi biscuit).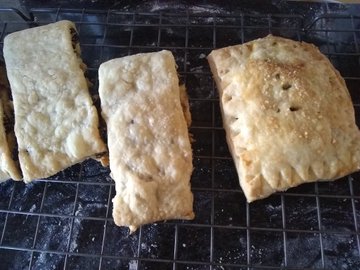 3. Divide the mixture between the pastry shapes. Dot with little blobs of butter. Seal the pasties with a little water. If you like they can be glazed with egg and sprinkled with sugar.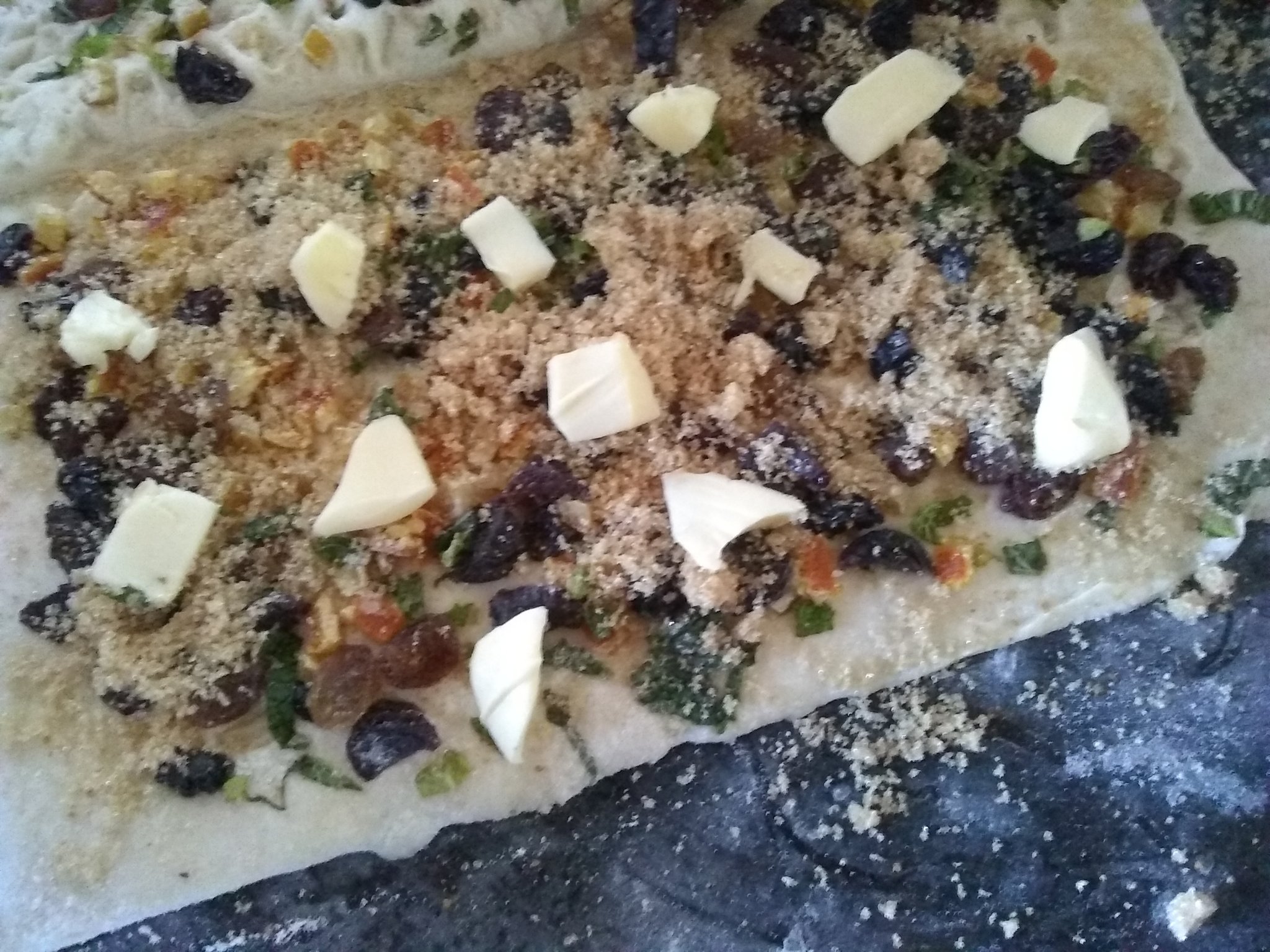 4. Bake at 180/160 fan/gas mark 4 until golden brown around the edges. Cool on a wire rack.
Coventry God cakes were traditionally given to Godchildren by their Godparents at the start of the new year.